Play'n Go's intrepid explorer Rich Wilde is back and embarking on another epic adventure, only this time he's unraveling darker mysteries in this Tome of Madness Slot.
This is the fourth chapter in Play'n Go's Rich Wilde game series. The dashing adventurer first appeared in Aztec Idols, then traveled north in Pearls of India, and finally appeared in the very popular Egyptian-themed Book of the Dead.
Rich Wilde and the Tome of Madness is a great Play'n Go slot based on the fictional writings of HP Lovecraft. Cthulhu, the most famous monster created by the author, is a giant sea monster that resembles an octopus with tentacles, rubbery green skin and dragon wings. It is said that Cthulhu can make people lose their minds just by looking at the creature.The horror!
Guided by the Book (Tome) of Madness, our favorite hero will embark on a quest to uncover the secrets and hidden fortunes of the Cult of Cthulhu.
Slot Advantages
The Best About Tome of Madness Slot
Positive
Thousands of fans around the globe
Tons of action
Groundbreaking New Features
Awesome graphics
The saga of Rich Wilde is one that has thousands of fans around the world. All of them eager to play a new game starring the intrepid adventurer that reminds so much of pop culture heroes like Indiana Jones or Nathan Drake.
The saga is so popular that there was even room for a series of spin offs about his sister in other Play'n Go slots. We're talking about Cat Wilde, who is just as charismatic as our protagonist today!
Being this a slot game where the main topic is adventure, there's one thing that players can expect above all: action. Tons of actions.
Rich Wilde and the Tome of Madness slot is only of those few games that not only offer you an adventure, but that actually make you feel as if you were there. We're talking about an action-packed cascade slot full of knives, skulls, cursed gems, and and many different combinations.
The game also presents many innovative features that make it stand out from conventional cascade slots. More on this below.
The icing on the cake in Tome of Madness slot is definitely the awesome graphics and ambientation. The game presents the latest HD designs and features an animated background with mist that almost seems alive.
Technical Descriptions
Tome of Madness Slot: Technical Specifications
| TOME OF MADNESS | |
| --- | --- |
| Game Board | 5×5 |
| RTP (Return to Player) | 96% |
| Volatility | Very High |
| Supported Devices | Desktop, mobile and tablet |
| Main Mechanic | Grind Slot |
Rich Wilde and the Tome of Madness slot is a high volatility (variance) 5×5 cascading cluster experience, with an RTP (Return to Player) value of 96.59% and a maximum winning potential of 2000x your total bet.
High volatility (variance) slots are more volatile with fewer small wins, but bigger big wins. This usually means longer "dry spells", but with a little patience and a bigger budget, the big wins are much more rewarding. This is something that adventurous players love, since they are ready to keep playing to get those juicy big rewards.
The game has many additional features including Special Wilds, Mega Wilds, 2x Multiplier Wilds, Portal Feature and the Other World Bonus.
Tome of Madness slot is supported on desktop, mobile, and tablet devices. This is something fundamental, since it provides a responsive gameplay that will allow people with different devices to play without problem. Of course, this is something common in all Play'n Go slots.
New Features
Tome of Madness Slot: Special Features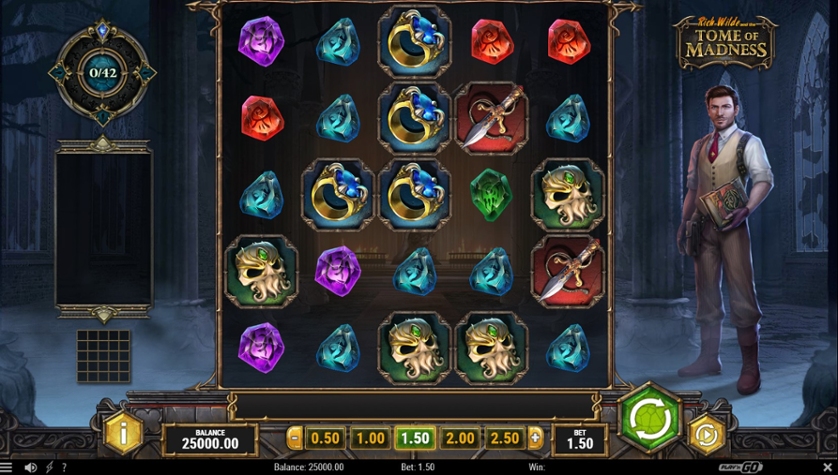 During normal play, a pink Eye Mark will appear at a random location on the grid. If a winning group lands on top of one of these locations, two special jokers will be added to the grid once the winning sequence is completed.
The circular Portal to the left of the grid is at the heart of the bonus features in this slot. Each time you get a winning group of symbols on the grid, you will notice that the Portal charges up and becomes more powerful. Consecutive wins will continue to charge the portal and the total number of winning symbols will be calculated and displayed in the center of the Portal graph.
Portal charges
Collecting 7 winning symbols will open the Portal and randomly add 2 special wilds to the grid.

Collecting 14 winning symbols will randomly add 2 special wilds to the grid, and if they are part of a winning group, the ABYSS portal effect will be activated. This Abyss will remove all symbols in a row or column of special wilds, and those symbols will be used to charge the portal.

Collecting 27 winning symbols will randomly add two special wilds to the grid, and if they are part of a winning group, the VOID Portal effect will be activated. 

If you collect 42 winning symbols, the Other World Free Round feature containing three random Portal effects will be activated. For every 3 symbols collected above the 42 that activated the feature, you will get an additional Portal effect (up to a maximum of 7). During this feature, one Portal effect is activated until no more can be won after a cascade.
When the otherworldly free round feature is activated, you will notice 11 or 12 eye markers visible on the grid. An eye will open if any of the symbol groups are won at an Eye Marker location. Upon opening ALL of the eye markers, the Mega Wild Cthulhu symbol will be unleashed. This is a giant Wild symbol that is added to the reels and continues to drop down one step with each cascade, increasing your chances of winning on each spin.
The Free Spins feature in Tome of Madness slot doesn't look or feel like other games. When activated, the Other World Free Round rewards the player with a free round that can include several winning combinations (with the help of additional effects) and the chance to unlock the Mega Wild Cthulhu Symbol.
AWESOME
Slightly darker and more esoteric than its predecessors, Rich Wilde and the Tome of Madness is a worthy addition to the Rich Wilde series. There's plenty of fast-paced action, and players who appreciate the thrills (and rewards) of high volatility games will feel right at home. This is undoubtedly one of the best Play'n Go slots.