Welcome to this Solitics review where you'll find everything about the company and its products. Solitics connects all your data across every distributed source and all marketing channels, providing you with one UI to control an entire strategy from a single location. This automation helps create better customer experience by executing strategies that can improve relevance of the offers sent out to customers .
Solitics is one of the top unified platforms for marketers and businesses which integrates all sorts of analytics along with CRM in order to automate your marketing efforts. It's important because it takes care of consistency between each channel.
Some of the solutions they offer are dynamic user journeys, live chat support, accurate attribution, dynamic segmentation, personalized content, and a master UI. We'll explore these in just a moment.
Pros & Cons
What does Solitics get right?
Positive
Wide range of solutions
Trusted by big companies
Proven track record of success
Extensive list of integration
Let's kick off this Solitics review talking about pros and cons.
One of the first things to note in this review for Solitics is the extensive amount of solutions the company puts at your disposal — whether it is for marketing purposes, for your product team, or simply to get the most out of your data. The selection is so big that we can't cover it here, so you'll find a special section for their products below.
Solistics is also trusted by some big players in the market like Codere and TradeFW, as well as hundreds of other well-established companies. Their main focus is in gaming, trading, ecommerce, and B2C in general.
We can't talk about Solistics without mentioning some of their previous cases. They've helped companies like Delasport increase their total amount of deposits by 25% — even during uncertain times — and international gaming operators like Codere to improve their customer KPI with real-time data for marketing.
They also provide a big list of integrations for hundreds of different providers —  MySQL, Google Cloud, Facebook, Whatsapp, to just name a few.
Solistic does a good job at pretty much everything. However, while preparing this Solitics review we couldn't help but notice that their blog section is outdated. That's such a shame, since a company like this surely has lots of value to share. However, they might revitalize their blogging efforts in the future.
Solitics Features
Solitics Review: Technical Specifications
| COMPANY FEATURES | |
| --- | --- |
| Email Marketing | Email building, automation, and management |
| Online Marketing | Landing pages and forms, dynamic content, A/B testing, search tracking and optimization |
| Lead Management | Lead database, data quality management, segmentation, online behaviour tracking, CRM |
| Analytics | Basic reporting, ROI analytics, revenue analytics |
No Solistics review could be complete without talking about the extensive range of offers they put at your disposal on their website.
Starting with email marketing, they offer a full suite of solutions to automate the customer journey. They provide features like email automation, and they allow you to embed that into the customer journey to complement it with other approaches like SMS reminders and personalized pop-ups.
These 'journeys' that you automatize can be triggered by specific events to generate more revenue. You can also interact with the users when it matters the most, with personalized offers that react to live-time data in as little as 1.8 seconds.
When it comes to online marketing they also offer solutions for creating, testing and optimizing landing pages. This goes as well for lead management, for which you can measure lead quality, segment, and track online behaviour. This means that not only do they give you the best tools for your page, but they also help you make the most out of your leads.
Of course, a company like this will also ensure that you have state of the art technology when it comes to analytics. They not only offer basic reporting, but also ways of measuring ROI and other sources of revenue — real time data.
Now we'll focus this Solitics review on the customer support.
Online Support
Does Solitics Offer Reliable Customer Support?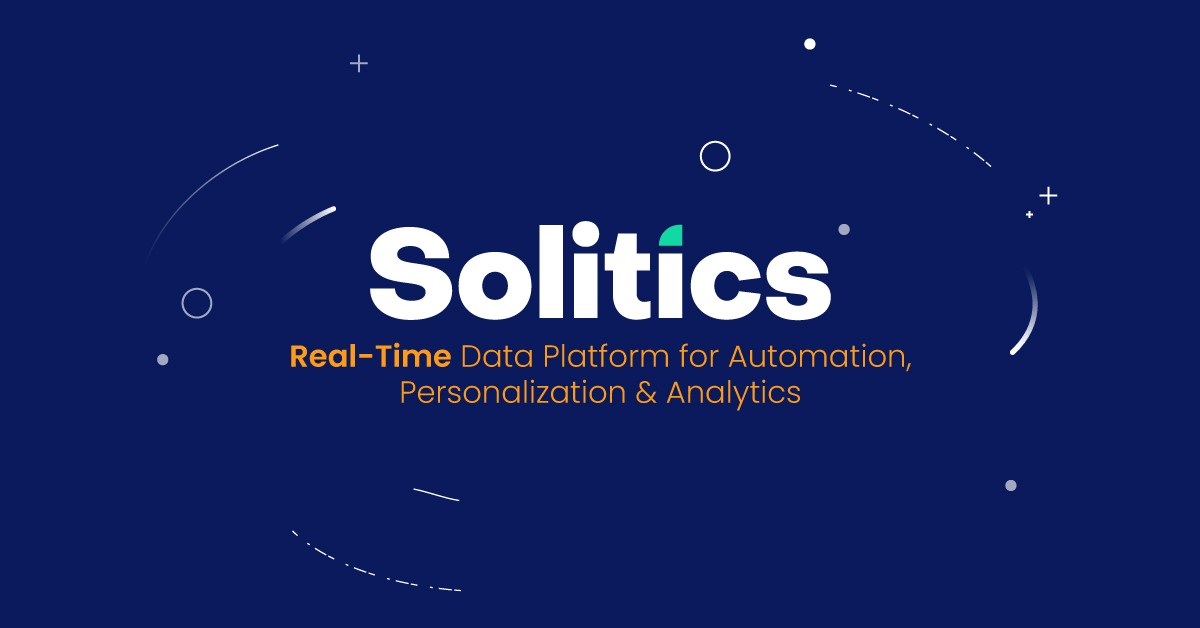 In this review for Solitics we also want to devote a special section to its customer support. Customer service is one of the most important things when you're using marketing tools like Solitics. When you're dealing with data that can affect in real time the performance of your different campaigns across media, then you'll want to know that you can count on a team of qualified professionals to resolve all of your doubts.
The role of a customer service representative is to help customers with issues that arise during the life cycle of the product. This includes installation, training on how to use it, troubleshooting if there are problems, and ensuring customer satisfaction throughout their experience.
If good-quality support is important to you, then you'll be glad to know that Solitics offers support in English via email and phone.
So no matter if you're out of the office or if you need a little extra help in the day-to-day, you'll always have a way to contact customer support.
Hope you liked this Solitics Review, now we'll wrap things up:
Excellent
Solistics is an all-round service that helps you with a powerful suite of automation and data tools to manage your marketing efforts. You can be sure to find everything you need most and to be able to implement it practically on any platform thanks to their extensive list of integrations. On top of that, you know you can count on their qualified support team to resolve all your doubts.